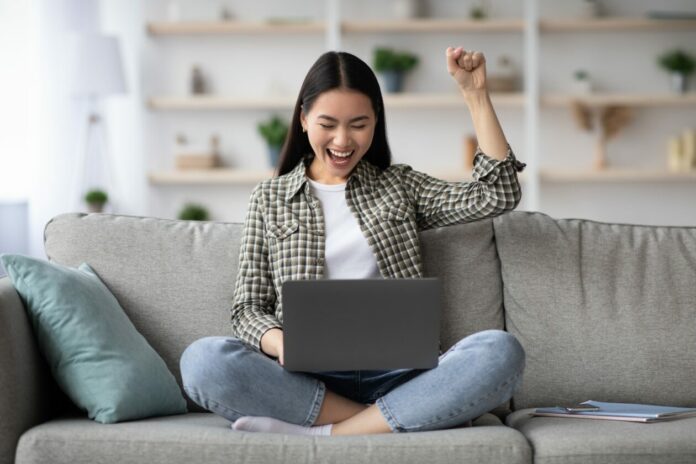 If you click on the links in this post, we may earn money from the companies mentioned in this post, at no extra cost to you. You can read the full disclaimer here.
As small business owners, we are responsible for so many things that we would not have to do if we were just working for a company.  It is not enough that we are an expert in our field.
For example, let's say you start a crochet business.  It's not enough that you are an expert at crocheting and everyone loves your products.  You'll also now need knowledge of all kinds of like marketing, accounting, website design, social media, etc.  And sometimes there are just not enough hours in the day for you to do it all.
So you could hire more employees.  But sometimes our budgets just do not justify hiring more employees.
And that is why I am so glad that Fiverr exists.  Fiverr is a way to hire a freelancer to do a project for you.  You don't have to enter into a long-term contract with them.  They do the work, and you can then hire them for more work or you can be done hiring them.  So it is very affordable.  Especially because the rates they charge I think are incredibly reasonable.  I have hired people using Fiverr to help me with certain projects and have had wonderful experiences.  Not only did I fix the problems I was having, but I didn't have to spend a lot of money to do it.
I am going to tell you about some of the business services you can hire someone on Fiverr to help you with.  And then I will tell you how you can save money using Fiverr with a great promo code!
Fiverr Business Services
Graphics & Design
You can hire someone to help you with designing a number of services you might need for your business, like:
Logo & Brand Identity
Logo Design
Brand Style Guides
Business Cards & Stationery
Gaming
Game Art
Graphics for Streamers
Twitch Store
Art & Illustration
Illustration
NFT Art
Pattern Design
Portraits & Caricatures
Cartoons & Comics
Tattoo Design
Storyboards
Web & App Design
Website Design
App Design
UX Design
Landing Page Design
Email Design
Icon Design
Web Banners
Social Media
Social Media Design
AR Filters & Lenses
Packaging & Covers
Packaging & Label Design
Book Design
Album Cover Design
Podcast Cover Art
Car Wraps
Visual Design
Photoshop Editing
Presentation Design
Infographic Design
Vector Tracing
Resume Design
Architecture & Building Design
Architecture & Interior Design
Landscape Design
Building Engineering
Building Information Modeling
Fashion & Merchandise
Fashion Design
T-Shirts & Merchandise
Jewelry Design
Print Design
Flyer Design
Brochure Design
Signage Design
Poster Design
Catalog Design
Menu Design
Postcard Design
Invitation Design
Product & Characters Design
Industrial & Product Design
Character Modeling
Trade Booth Design
Programming & Tech
A lot of business owners are strong when it comes to the business but not as much with programming and tech.  You can hire freelancers for one-time projects in a lot of different programming and tech fields.  I have done it before with great success.  You could hire someone to help you with things like:
WordPress
Website Builders & CMS
Game Development
Development for Streamers
Web Programming
E-Commerce Development
Mobile Apps
Desktop Applications
Chatbots
Support & IT
Online Coding Lessons
Cybersecurity & Data Protection
Get Your Website in a Few Steps
Electronics EngineeringNEW
Convert Files
User Testing
QA & Review
Blockchain & Cryptocurrency
Data Science
NFT Development
Databases
Data Processing
Data Engineering
Digital Marketing
Digital marketing is another field where it may not be your area of expertise, but you need it for your business to succeed.  You can hire someone to help you with all kinds of matters relating to digital marketing such as:
Social Media Marketing
Social Media Advertising
Search Engine Optimization (SEO)
Local SEO
Marketing Strategy
Public Relations
Content Marketing
Video Marketing
Email Marketing
Web Analytics
Text Message Marketing
Search Engine Marketing (SEM)
Display Advertising
E-Commerce Marketing
Influencer Marketing
Community Management
Mobile App Marketing
Music Promotion
Book & eBook Marketing
Podcast Marketing
Crowdfunding
Affiliate Marketing
Writing & Translation
Just because you are an expert at say newborn photography doesn't mean you are an expert writer.  And that's okay, because you can hire someone to write for you.  You can hire someone to do tasks like:
Articles
Blog Posts
Translation
Proofreading & Editing
Cover Letters
LinkedIn Profiles
Ad Copy
Sales Copy
Social Media Copy
Email Copy
Case Studies
Book & eBook Writing
Book Editing
Scriptwriting
Podcast Writing
Beta Reading
Creative Writing
Brand Voice & Tone
UX Writing
Speechwriting
eLearning Content Development
Technical Writing
Job DescriptionsNEW
White Papers
Website Content
Product Descriptions
Press Releases
Business Names & Slogans
Legal Writing
Grant Writing
Transcripts
Research & Summaries
Video & Animation
Some of your marketing materials might include video or animation.  If you are interested in doing this for your business, you may have no experience creating this yourself.  So in that case, you might want to hire someone with Fiverr.  You can hire them for projects like:
Video Editing
Short Video Ads
Whiteboard & Animated Explainers
Character Animation
Lyric & Music Videos
Logo Animation
Intros & Outros
Visual Effects
Subtitles & Captions
Spokesperson Videos
Unboxing Videos
Animated GIFs
3D Product Animation
E-Commerce Product Videos
Product Photography
Live Action Explainers
Lottie & Website Animation
NFT Animation
Corporate Videos
App & Website Previews
Animation for Streamers
Slideshow Videos
Crowdfunding Videos
Meditation Videos
Animation for Kids
Article to Video
Game Trailers
Book Trailers
Real Estate Promos
eLearning Video Production
Video Templates Editing
Screencasting Videos
Local Photography
Drone Videography
Music & Audio
If you are creating new marketing material, you might also want someone to help you with music and audio.  So
Voice Over
Producers & Composers
Singers & Vocalists
Mixing & Mastering
Session Musicians
Online Music Lessons
Podcast Editing
Songwriters
Beat Making
Audiobook Production
Audio Ads Production
Sound Design
Jingles & Intros
Dialogue Editing
Music Transcription
Vocal Tuning
DJ Drops & Tags
DJ Mixing
Remixing & Mashups
Synth Presets
Meditation Music
Audio Logo & Sonic Branding
Other Business Services
You can also hire someone to help you with other business services like:
Virtual Assistant
Market Research
Sales
E-Commerce Management
Customer Care
Supply Chain Management
Project Management
Event Management
Presentations
Game Concept Design
Flyer Distribution
Business Plans
Business Consulting
Legal Consulting
Data Visualization
Financial Consulting
HR Consulting
Career Counseling
Data Entry
Data Analytics
Promo Code
Looking for a promo code to help you save money on these Fiverr service?  You have definitely come to the right place!
Website Tips & Tutorials blog readers get to take advantage of a special promotional code.  Just click here and use the coupon code "FVRR10COUPON" when you use Fiverr's services.  This will save you 10% on the cost of your product!
This promo code is valid between now and December 31, 2022.  So if you want to use Fiverr in 2022, make sure you use this coupon code!